Closing of the centre
From 15 March 2020 to 15 April 2020
Dear customers,
Following the announcement of the passage to stage 3, we inform you that the shopping centre will be closed but will remain accessible to the public, only for essential shops.
Therefore, will be open :
– Our supermarket Auchan (from 9am to 7pm)
– Les Halles Pharmacy (from 9am to 7pm)
This information may be subject to change, but we will keep you informed.
Thank you for your understanding,
Take care of yourself!
The management of the shopping centre
Events and special offers
Your Place des Halles shopping centre is also the venue for dozens of events and special promotions. Make the most of the best opportunities!
Event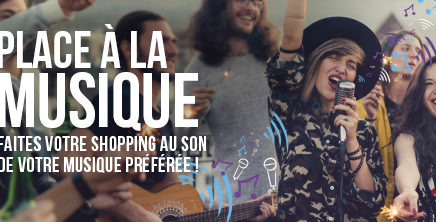 Music'Halles
Music'Halles, the new service that will allow you to do your shopping with your own soundtrack! Vote for your favorite music in the flow, this will be the next to air You will also have the opportunity to search the music you want to listen! Music'Halles (...)
I'm going for it
Voir tous